Repaint of a VW Transporter T5 Part 1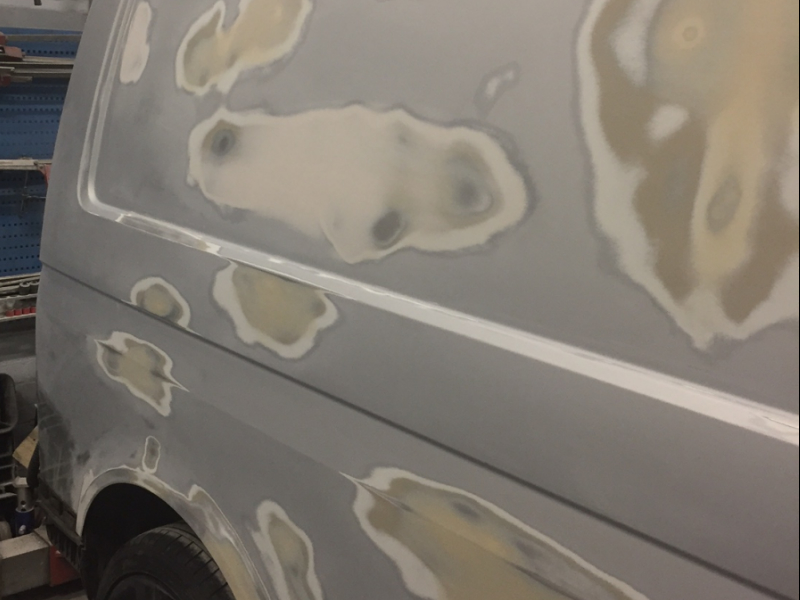 Summary/Outline
This VW Transporter T5 was purchased by the owner as a normal van with the intention of converting it to a camper van.

The body of this Transporter was in very poor condition, every panel on the vehicle needed repairing so it was stripped back to bare steel, repaired and rust proofed where necessary. All the door apertures and the rear of the doors needed repairing and painting. Once painted the vehicle was then flatted and machine polished to a mirror finished.

The Customer said...
"I took my VW transporter panel van to Gary and John at AAAR and asked them to quote me to get the van looking as it once was. They looked around the van and told me that every single panel had serious dents and the doors where shattered and full of fila. I thought they was going to turn me away as there was so much work that needed to be done but after spending 15 minutes going around the van they agreed to take on the job. I gave them the van and six weeks later they called to say it was ready, I never expected the van to look like it did, they had not only resprayed all over but fitted the front and rear spoilers and even packed out the front one that was soft plastic to make sure it would not break on the first bump but also colour coded my bumpers and wing mirrors which was extra work for them. Everyone who has seen the van that saw it before cannot believe it is the same battered panel van it was when I gave it to them, I would recommend these guys to anyone as the quality of work is stunning but more importantly they do a proper job not just patching and painting."
---
---